Term Life Plus insurance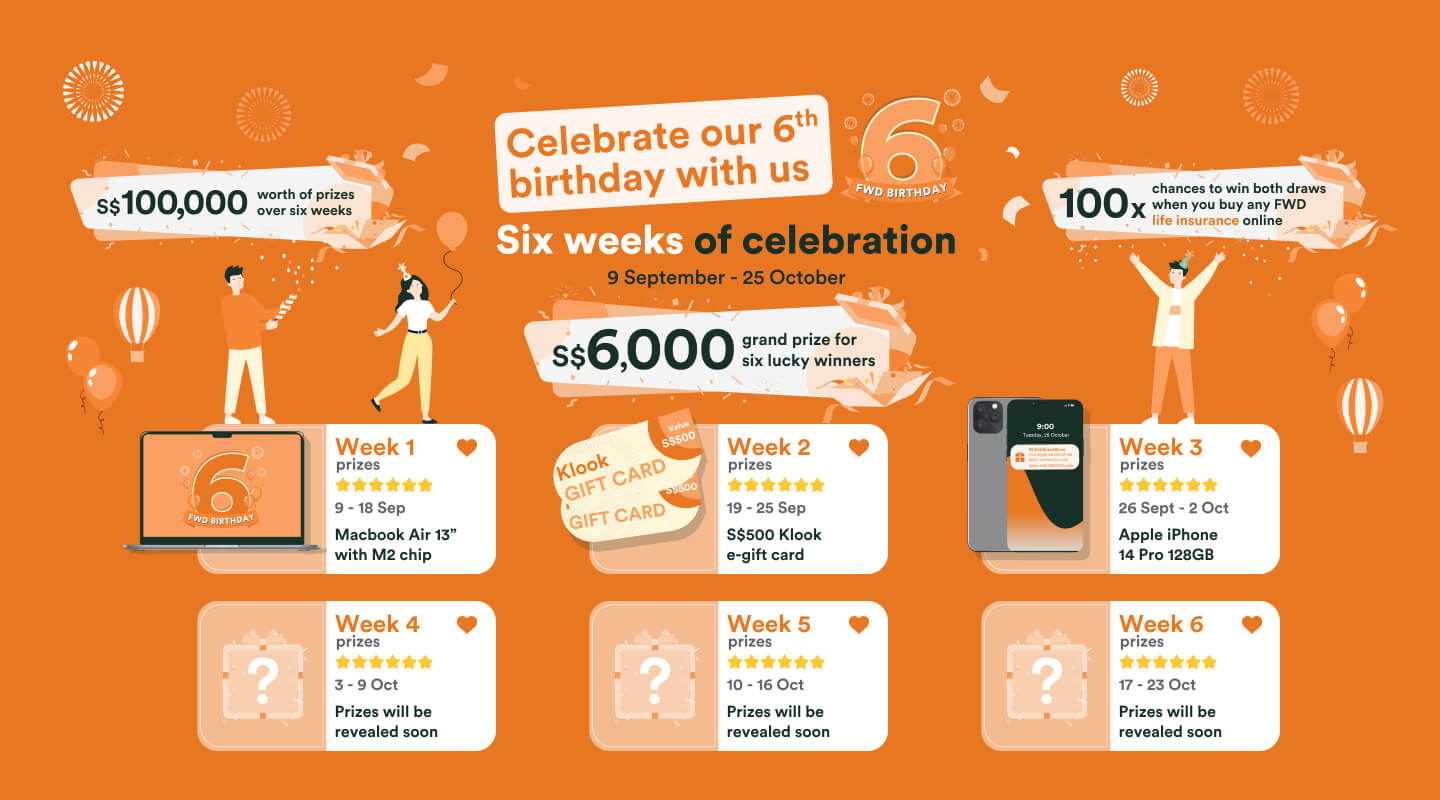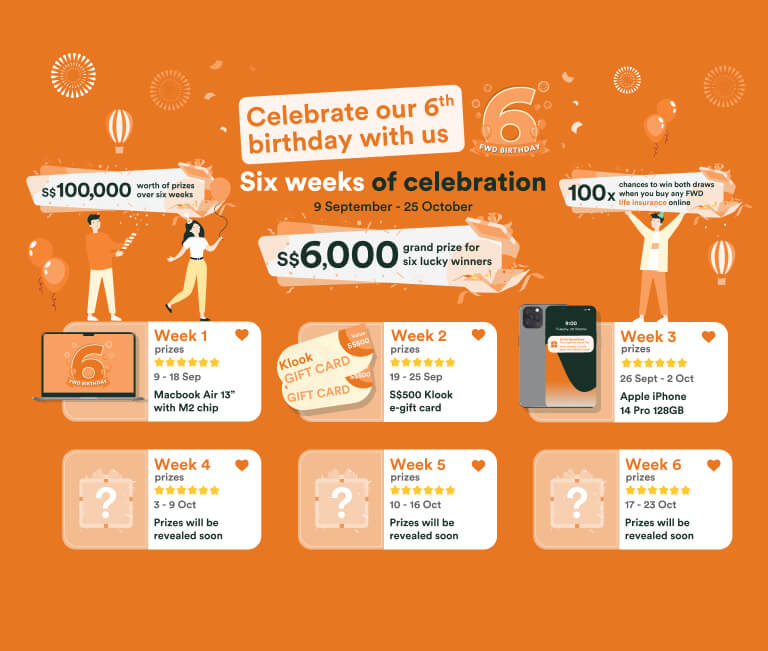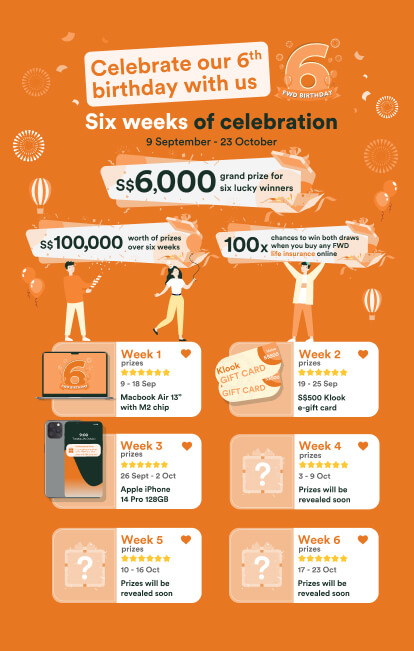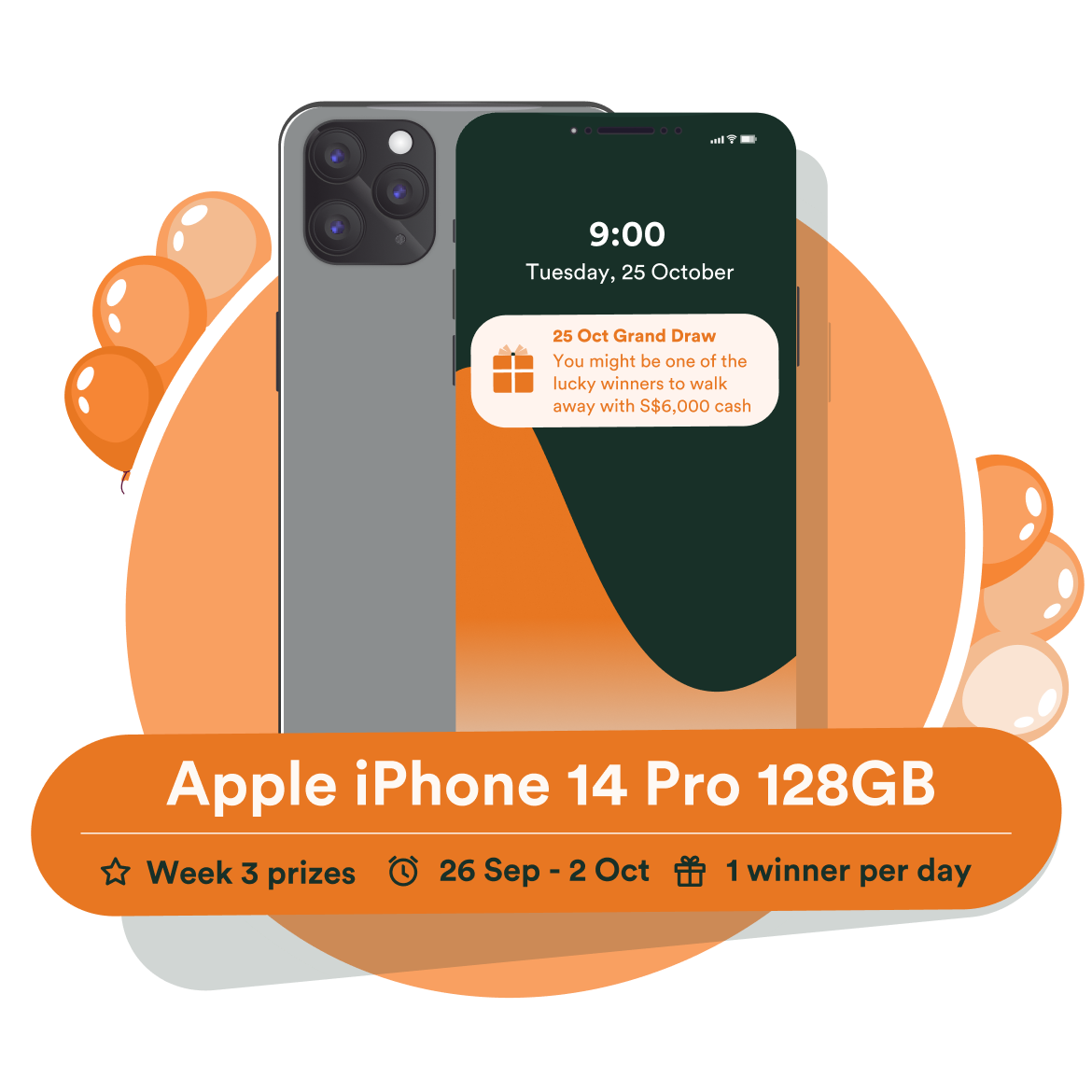 Celebrate our 6th birthday and win over S$100,000 worth of prizes over 6 weeks
For 6 weeks, stand a chance to win amazing prizes daily when you make any FWD insurance purchase online
Stand a chance to win an iPhone 14 Pro 128GB from 26 September to 2 October 2022
Plus, participate in the grand draw on 25 October – S$6,000 cash each for 6 winners
Get 100x chances for both draws when you sign up for eligible life insurance online
Find out more here.
Our Term Life Plus Insurance Coverage at a glance


Up to S$3 million coverage


Million dollar term life cover from as low as S$1/day1


Fixed or renewable terms
Apply up to S$3 million term life coverage online in just minutes
Apply for FWD Term Life Plus insurance online with up to S$3 million coverage,
the highest coverage* offered online by any insurer. Keep your loved ones protected in just minutes, so that you can focus on what matters most.
choose the term life insurance
that suits your needs
We are now offering a complimentary S$5,000 lump sum benefits covering you for any adverse side effects of the COVID-19 vaccine. All customers purchasing a Term Life Plus insurance policy between 01 April 2021 to 31 December 2022 are eligible for this cover. If you already own a Term Life Plus insurance policy, you are covered too. For detailed T&C, click here
What FWD Term Life Plus covers
Big coverage at an affordable price
Get a million dollar term life cover from as low as $1 a day and the freedom to pace your premiums with your income. (for a 28 year old non-smoking male)
Enhance your cover
Beef up your coverage with optional benefits to protect yourself if you are diagnosed with a critical illness or become unable to work due to a total and permanent disability.
FWD Care Recovery Plan
FWD Care Recovery Plan is our complimentary support program that goes beyond paying a claim during your moments of need. Between 01/07/2021 to 31/12/2022, if your eligible claim is approved, the FWD Care Recovery Plan will be made available to you. To know more, download our brochure
here
.
Be covered even as you age
Guaranteed renewals over your policy period.
fixed over your policy period
up to age
100 years
Uninterrupted coverage - waiver of premium
If you purchase the optional premium waiver benefit, you can enjoy life insurance coverage without paying subsequent premiums in the event you are unable to work due to a total and permanent disability or critical illness.
waiver of premium
available
waiver of premium
not available
Plan with certainty
For fixed term, your premium remains the same over the policy period you choose. For renewable term, your premium changes every year allowing you to start with lower premium.
fixed premium for 5 year and longer term
premium starts low and increases yearly
enhance your life insurance coverage at
a fraction of your premium
Over 70% of our customers choose additional protection for critical illness or total and permanent disability with their term life cover. In event of these, you also get your subsequent premiums waived if you choose to get our premium waiver benefit.
common life insurance questions
Do I need to pay for medical check up?
No, if we require you to go for medical check up, you will not need to pay as we will bear the fees of the medical check-up that we request, unless otherwise stated.
Am I eligible for buying this policy?
You can buy this policy if:
Your age is between 18 to 60
You are currently residing in Singapore
You have a valid NRIC/FIN
Will I still be covered under FWD Term Life Plus insurance when I move to a different country?
Yes, you will be covered as long as you continue paying your premiums.
learn more about life insurance
Know more and make better choices - find useful tips and ideas on our blog!
Direct Term Life insurance
Looking for an alternative plan? Opt for a reduced cover of up to S$400,000.
Did not find what you were looking for?
Our financial advisory partners can guide you to understand your protection needs and recommend a customised life protection insurance plan.
*The competitor comparison was correct as of 29 June 2022
1For a 28 year old non-smoking male.
This page is for general information only. You can find the detailed terms and conditions of this plan in the policy wording.
Buying life insurance policy is a long term commitment. You may wish to seek advice from a financial adviser before making a commitment to purchase the policy. In the event that you choose not to seek advice from a financial adviser, you should consider whether the policy is suitable for your needs. Switching from an existing policy to a new one may have potential disadvantages.
This policy is protected under the Policy Owners' Protection Scheme which is administered by the Singapore Deposit Insurance Corporation (SDIC). Coverage for your policy is automatic and no further action is required from you. For more information on the types of benefits that are covered under the scheme as well as the limits of coverage, where applicable, please contact us or visit the GIA/LIA or SDIC web-sites (www.gia.org.sg or www.lia.org.sg or www.sdic.org.sg).
This advertisement has not been reviewed by the Monetary Authority of Singapore.
Info - rider add-ons
1

of 3
Total and Permanent Disability (TPD) refers to a condition where you are totally unable to engage in any occupation, with this disability continuing for at least six consecutive months and is deemed permanent, with no possibility of improvement in the foreseeable future.

It can also refer to a condition where you suffer total and irrecoverable loss of use of (1) the entire sight in both eyes; (2) any two limbs at or above the wrist or ankle; or (3) the entire sight in one eye and any one limb at or above the wrist or ankle. TPD Benefit ceases on and after your 65th birthday.
Alzheimer's Disease / Severe Dementia
Angioplasty & Other Invasive Treatment for Coronary Artery
Irreversible Aplastic Anaemia
Severe Bacterial Meningitis
Benign Brain Tumour
Coma
Coronary Artery By-Pass Surgery
Deafness (Irreversible Loss of Hearing)
End Stage Liver Failure
End Stage Lung Disease
Fulminant Hepatitis
Heart Attack of Specified Severity
Open Chest Heart Valve Surgery
HIV Due to Blood Transfusion and Occupationally Acquired HIV
End Stage Kidney Failure
Irreversible Loss of Speech
Major Burns
Major Cancer
Major Head Trauma
Major Organ / Bone Marrow Transplantation
Motor Neurone Disease
Multiple Sclerosis
Muscular Dystrophy
Paralysis (Irreversible Loss of Use of Limbs)
Idiopathic Parkinson's Disease
Primary Pulmonary Hypertension
Stroke with Permanent Neurological Deficit
Open Chest Surgery to Aorta
Severe Encephalitis
Progressive Scleroderma
Persistent Vegetative State (Apallic Syndrome)
Systemic Lupus Erythematosus with Lupus Nephritis
Other Serious Coronary Artery Disease
Poliomyelitis
Loss of Independent Existence
Info - two types of Term insurance
1

of 2
Your premium starts at a very affordable price and increases yearly. You will remain insured under the same policy term and your sum insured remains the same as long as you continue paying premiums promptly. This helps you pace your premiums as your income increases.
Compared to Renewable Term Policy, premiums for Fixed Term Policy are slightly higher at the beginning, but stay the same for the entire policy term. Your sum insured remains the same throughout the policy. This helps you plan your finances with certainty.
Info - no medical examination
No Medical Examination
For customers aged 50 and below, you may purchase up to S$1.5 million coverage without medical check-up if you are in the pink of health.
For customers above age 50, the allowable limit for purchase without medical check-up is S$500,000 sum assured.
Info - big coverage
Big Coverage
A million dollar term life cover from as low as $1 a day
(for a 28 year old non-smoking male)
Info - spouse coverage
Spouse Coverage
In the event of your death or terminal illness, your spouse, aged 55 and below, is eligible for death and terminal illness cover of up to S$250,000 for 1 year.
Info - $1 a day
$1 a day
Lorem ipsum dolor sit amet
LIA Study
Up to S$3 million in Term Life coverage
Life Insurance Association of Singapore (LIA) recommends cover of 9x your annual salary in LIA Protection Gap study 2017